ANNUAL ICE FISHING DERBY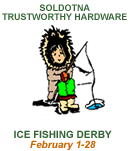 It's derby time again! Get ready for the 22th annual 2019 Soldotna Trustworthy Ice Fishing Derby. We've got lots of ice, it's been a cold one, and it looks good just about any where you want to go on the peninsula. We are looking forward to some more record breakers this year! Each year we see a huge variety of fish entered and some of the heaviest in a couple of categories. Thanks to all the contestants who return year after year, really putting in some time to get out there to find that big one. So come on in to the store and sign up and then get your family out there to catch YOUR big one!
There are various rules that each participant needs to follow and you can view those here.
We also have a new Catch and Release Division that we are excited to have everyone participate in!
As always, we have a wide array of prizes this year, check out the qualifications for those divisions here.
***HAVE FUN , BE SAFE, & GET OUT FISHING***